Advance Human Touch Zero Gravity Foot Massage Sofa Chair for Relax
Packaging:

Advance Human Touch Zero Gravity Foot Massage Sofa Chair for Relax G.w./N.w.: 152/125 kgs Ctn Size:1450*1150*835mm Volume: 1.39cbm Loading Qtty 40HQ: 42 pcs Step 1: Stongly packed by carton box with foam Step 2: Packed by high-grade corrugated paper box,

Transportation:

Express,Ocean,Land,Air

Supply Ability:

5000 Unit/Units per Month Human Touch Zero Gravity Foot Massage Sofa Chair for Relax

Port:

Shanghai
Product Description
#detail_decorate_root .magic-0{border-bottom-style:solid;border-bottom-color:#53647a;font-family:Times New Roman;font-size:24px;color:#53647a;font-style:normal;border-bottom-width:2px;padding-top:8px;padding-bottom:4px}#detail_decorate_root .magic-1{vertical-align:top}#detail_decorate_root .magic-2{padding:0;margin:0;color:#333;font-size:14px;padding-left:4px;font-weight:bold;white-space:pre-wrap}#detail_decorate_root .magic-3{vertical-align:top;display:block;padding-right:4px;box-sizing:border-box;padding-left:4px}#detail_decorate_root .magic-4{vertical-align:top;padding-bottom:4px;box-sizing:border-box;padding-top:4px}#detail_decorate_root .magic-5{padding:0;margin:0;white-space:pre-wrap;font-size:14px}#detail_decorate_root .magic-7{font-size:22px}#detail_decorate_root .magic-8{font-size:18px}#detail_decorate_root .magic-9{font-size:24px}#detail_decorate_root .magic-10{font-size:20px}#detail_decorate_root .magic-11{width:750px}#detail_decorate_root .magic-12{overflow:hidden;width:750px;height:348px;margin-top:0;margin-bottom:0;margin-left:0;margin-right:0}#detail_decorate_root .magic-13{margin-top:0;margin-left:0;width:750px;height:348px}#detail_decorate_root .magic-14{width:446px}#detail_decorate_root .magic-15{overflow:hidden;width:446px;height:453.136px;margin-top:0;margin-bottom:0;margin-left:0;margin-right:0}#detail_decorate_root .magic-16{margin-top:0;margin-left:0;width:446px;height:471px}#detail_decorate_root .magic-17{width:300px;display:flex;flex-direction:column;margin-right:0;margin-left:4px}#detail_decorate_root .magic-18{overflow:hidden;width:446px;height:402.58933333333334px;margin-top:0;margin-bottom:0;margin-left:0;margin-right:0}#detail_decorate_root .magic-19{margin-top:0;margin-left:0;width:446px;height:412px}#detail_decorate_root .magic-20{overflow:hidden;width:446px;height:512.9px;margin-top:0;margin-bottom:0;margin-left:0;margin-right:0}#detail_decorate_root .magic-21{margin-top:9.514666666666667px;margin-left:-208.13333333333333px;width:705px;height:512px}#detail_decorate_root .magic-22{overflow:hidden;width:446px;height:317.552px;margin-top:0;margin-bottom:0;margin-left:0;margin-right:0}#detail_decorate_root .magic-23{margin-top:0;margin-left:0;width:446px;height:315px}#detail_decorate_root .magic-24{overflow:hidden;width:446px;height:441.24266666666665px;margin-top:0;margin-bottom:0;margin-left:0;margin-right:0}#detail_decorate_root .magic-25{margin-top:0;margin-left:0;width:446px;height:456px}#detail_decorate_root .magic-26{overflow:hidden;width:446px;height:512.6026666666667px;margin-top:0;margin-bottom:0;margin-left:0;margin-right:0}#detail_decorate_root .magic-27{margin-top:0;margin-left:0;width:446px;height:567px}#detail_decorate_root .magic-28{overflow:hidden;width:446px;height:446px;margin-top:0;margin-bottom:0;margin-left:0;margin-right:0}#detail_decorate_root .magic-29{margin-top:0;margin-left:0;width:448px;height:446px}#detail_decorate_root .magic-30{overflow:hidden;width:446px;height:407.9413333333333px;margin-top:0;margin-bottom:0;margin-left:0;margin-right:0}#detail_decorate_root .magic-31{margin-top:0;margin-left:0;width:446px;height:437px}#detail_decorate_root .magic-32{overflow:hidden;width:446px;height:396.8835443037975px;margin-top:0;margin-bottom:0;margin-left:0;margin-right:0}#detail_decorate_root .magic-33{margin-top:0;margin-left:0;width:446px;height:400px}#detail_decorate_root .magic-34{overflow:hidden;width:446px;height:537.5786666666667px;margin-top:0;margin-bottom:0;margin-left:0;margin-right:0}#detail_decorate_root .magic-35{margin-top:0;margin-left:0;width:446px;height:554px}#detail_decorate_root .magic-36{overflow:hidden;width:446px;height:349.641975308642px;margin-top:0;margin-bottom:0;margin-left:0;margin-right:0}#detail_decorate_root .magic-37{margin-top:0;margin-left:0;width:483px;height:349px}#detail_decorate_root .magic-38{overflow:hidden;width:446px;height:345.97119341563786px;margin-top:0;margin-bottom:0;margin-left:0;margin-right:0}#detail_decorate_root .magic-39{margin-top:0;margin-left:0;width:478px;height:345px}#detail_decorate_root .magic-40{overflow:hidden;width:750px;height:575px;margin-top:0;margin-bottom:0;margin-left:0;margin-right:0}#detail_decorate_root .magic-41{margin-top:0;margin-left:0;width:750px;height:575px}#detail_decorate_root .magic-42{width:750px;border-collapse:collapse}#detail_decorate_root .magic-43{min-height:28px;padding:5px 10px;width:257px;min-height:28px;box-sizing:content-box}#detail_decorate_root .magic-44{font-size:16px}#detail_decorate_root .magic-45{min-height:28px;padding:5px 10px;width:130px;min-height:28px;box-sizing:content-box}#detail_decorate_root .magic-46{min-height:28px;padding:5px 10px;width:280px;min-height:28px;box-sizing:content-box}#detail_decorate_root .magic-47{overflow:hidden;width:750px;height:320px;margin-top:0;margin-bottom:0;margin-left:0;margin-right:0}#detail_decorate_root .magic-48{margin-top:0;margin-left:0;width:750px;height:320px}#detail_decorate_root .magic-49{overflow:hidden;width:750px;height:200px;margin-top:0;margin-bottom:0;margin-left:0;margin-right:0}#detail_decorate_root .magic-50{margin-top:0;margin-left:0;width:750px;height:200px}#detail_decorate_root .magic-51{overflow:hidden;width:750px;height:292px;margin-top:0;margin-bottom:0;margin-left:0;margin-right:0}#detail_decorate_root .magic-52{margin-top:0;margin-left:0;width:750px;height:292px}#detail_decorate_root .magic-53{overflow:hidden;width:750px;height:253px;margin-top:0;margin-bottom:0;margin-left:0;margin-right:0}#detail_decorate_root .magic-54{margin-top:0;margin-left:0;width:750px;height:253px}#detail_decorate_root .magic-55{overflow:hidden;width:750px;height:250px;margin-top:0;margin-bottom:0;margin-left:0;margin-right:0}#detail_decorate_root .magic-56{margin-top:0;margin-left:0;width:750px;height:250px}#detail_decorate_root .magic-57{overflow:hidden;width:373px;height:497.33333333333337px;margin-top:0;margin-bottom:0;margin-left:0;margin-right:0}#detail_decorate_root .magic-58{margin-top:0;margin-left:0;width:373px;height:497.33333333333337px}#detail_decorate_root .magic-59{overflow:hidden;width:373px;height:497px;margin-top:0;margin-bottom:0;margin-left:4px;margin-right:0}#detail_decorate_root .magic-60{overflow:hidden;width:750px;height:333px;margin-top:0;margin-bottom:0;margin-left:0;margin-right:0}#detail_decorate_root .magic-61{margin-top:0;margin-left:0;width:750px;height:333px} Products Description Morningstar has 20+ years' experience in
Massage Chair
.Sample order Acceptable!
OEM&ODM Acceptable!
Please contact us for more details! 1.AC110V/220V/240V
2.Power: 180W
3.Size:1520*810*1220mm
3.Air Bag Qtty: Shoulder 4pcs /Hand 16pcs / Seat 4pcs / Leg 10pcs/ Foot 12pcs
4.Program: Auto /Manual
5.SL-type super-long rail technology
Massage
distance is 135cm
6.4D movement: 4 massage balls, shoulder position detection
7.One button design, slip against the wall & zero gravity
8.Auto-adjustment of leg degree
9.Auto-telescopic footrest, auto-sensing plantar position
10.Three rows of rolling massage on the sole of the foot
11.Shoulder, hip, leg, hand, whole body air pressure massage
12. Music Speaker
13.Hot compress function of leg and waist
14.Negative Ion Air Generator
15.Usb charging
16.EPU leather, support choose color in catalogue.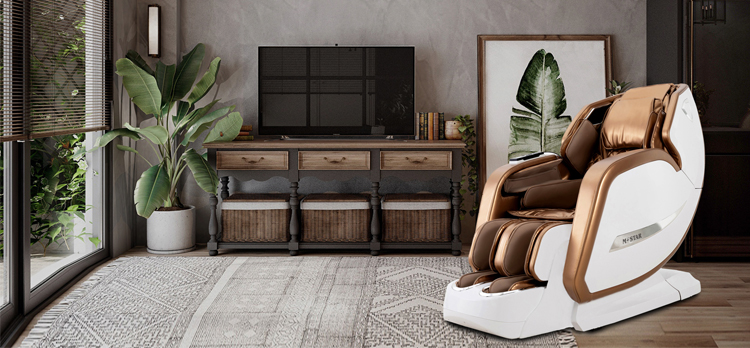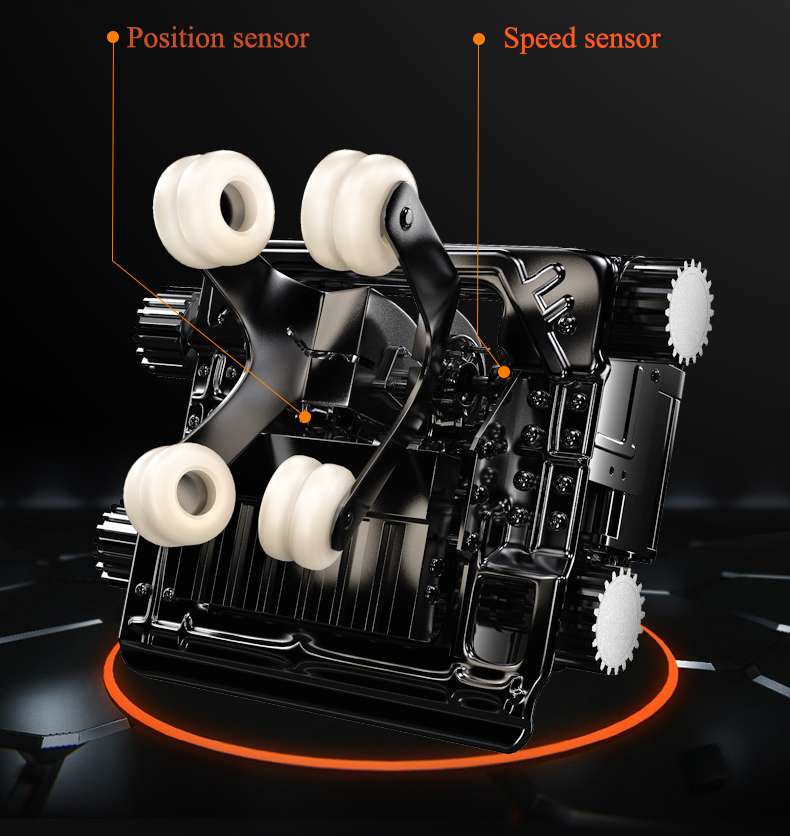 4D
Massage Chairs
With 4D massage chairs, the massage rollers go up, down, left, right, in and out, and you also have roller speed adjustments in
certain programs for an even more precise and effective massage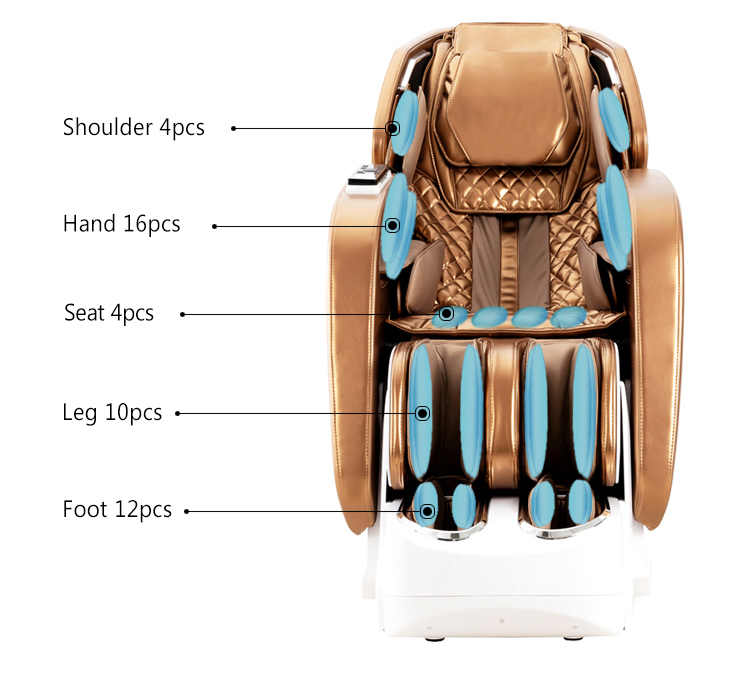 Full body airbags massageThe 48 massagers are pumped with air and wrap around the regions of the body the S-Track roller system can't reach, providing a rejuvenating compression and stretch. The airbags massage the outer shoulders, neck/head, arms, hips/waist, buttocks, hamstrings, calves, and feet. You can choose from 5 intensity levels to customize the air massage strength to your preference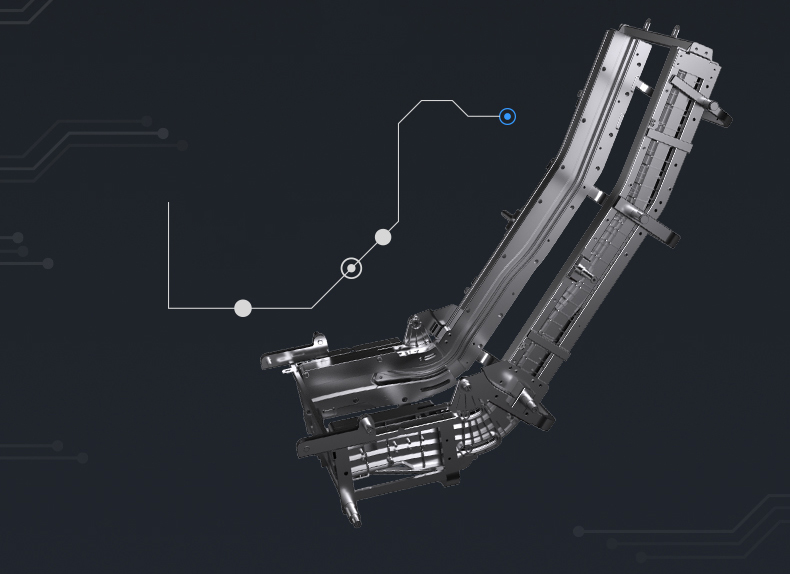 Super long SL Trackinnovative sl track, covering 35% more of the back than conventional chairs,delivers soothing massage along the back curves,and
all the way down to hips and the thighs
Full Body Scan TechnologyBody Scan Technology provides users with the most accurate, precise massage that's personalized for your specific body size and shape. Body scans work by utilizing sensors and state of the art technology to register the size, shape, and curves of each user.
This allows the chair to customize the massage to your needs and ensures the rollers are hitting all the correct points.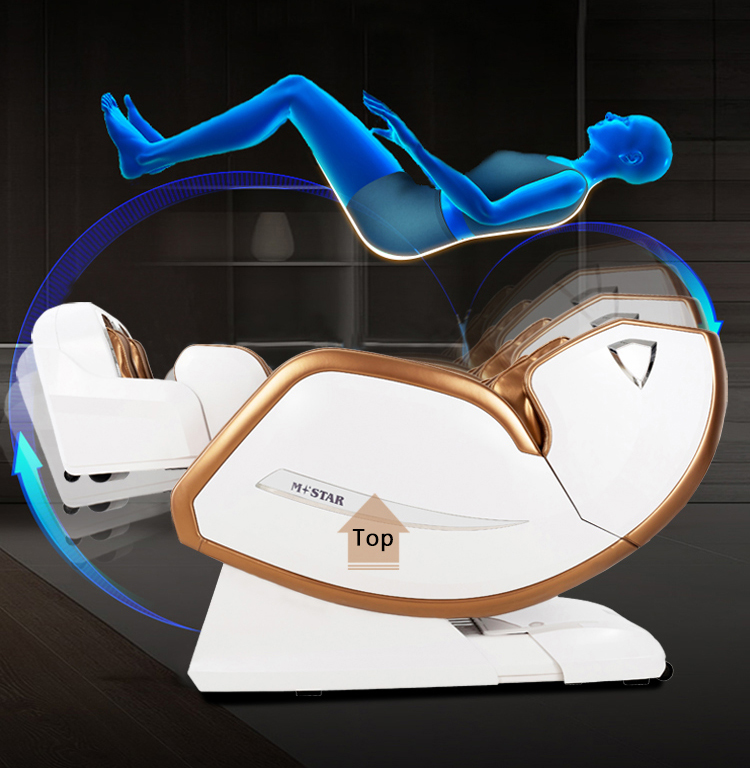 Thai StretchOur Full Body Stretch function holds your hips in place while your legs are pulled down and your back is stretched. Get amazing
stretches every single day with our Full Body Stretch function and start reaping the health benefits now.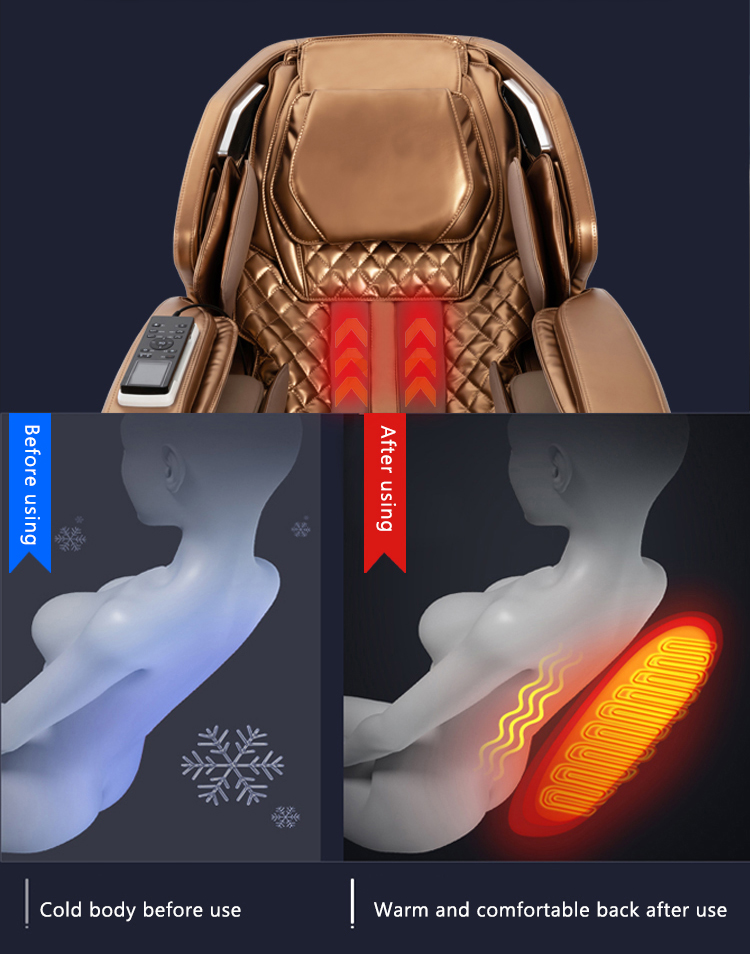 Heating for WaistHeating modules located in the back of the chair provide a soothing sensation and loosen your muscles to better prepare your body
for the massage.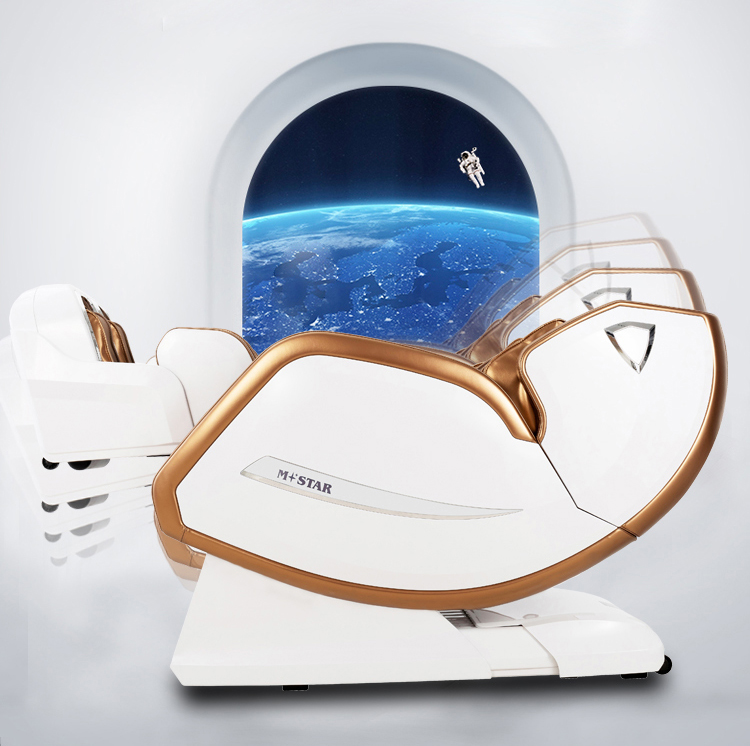 Zero GravityZero gravity positioning elevates your knees above your heart, which allows the spine to decompress, provides a sense of weightlessness, and maximizes the effects of the massage rollers.
One button design, slip against the wall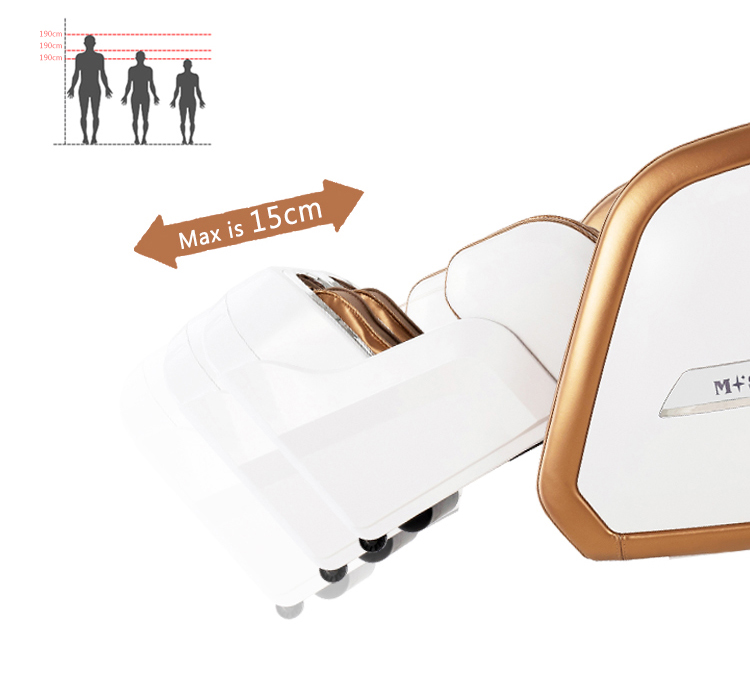 Adjustable Leg ExtensionsOur massage chair is designed to fit people of all heights. Whether you are 4 feet or 6 feet 5 inches, we have engineered the chair to match your exact height. Our adjustable leg extensions make it easy to extend or shorten the legs to a position that
makes you most comfortable.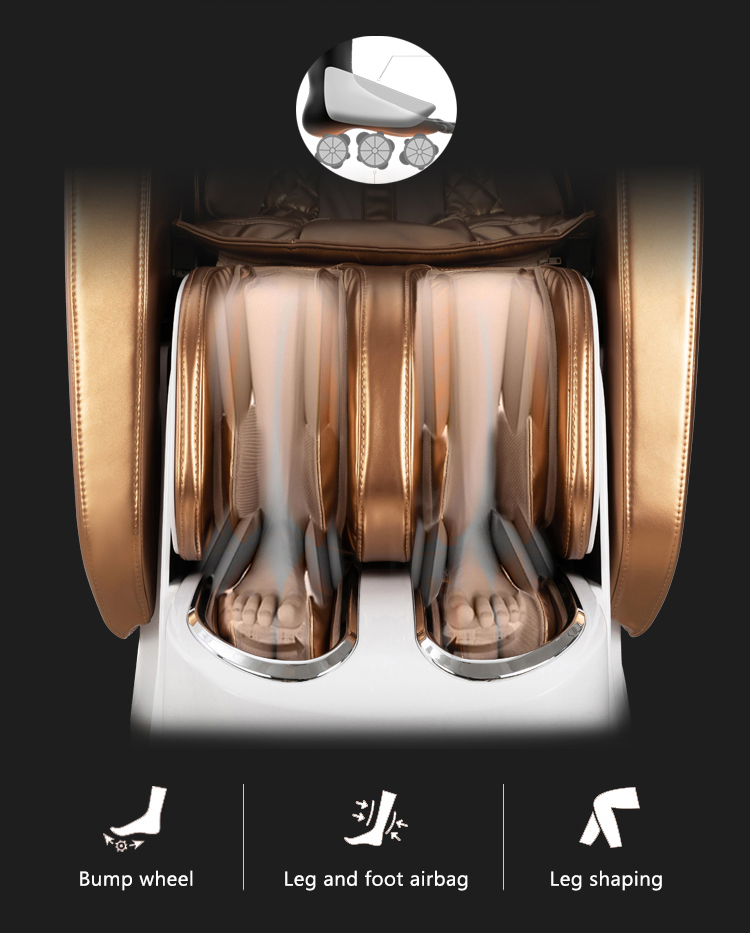 Foot rollerUnderneath the feet there are spinning reflexology rollers to provide an outstanding foot massage. The rollers under the feet will travel along the sides and arches of your feet to provide a more dimensional kneading experience.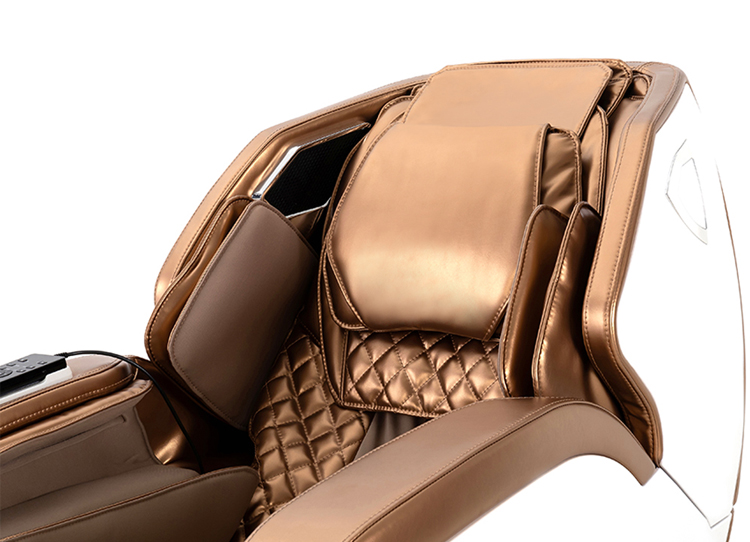 Detachable pillow 1.Microfiber Leather color customization available2.laser engraving LOGO
3. Corrosion resistance
4. Wear resistance
5. High air permeability
6. Easy to clean
7. Cold and heat resistance: high temperature
70C, low temperature -25C test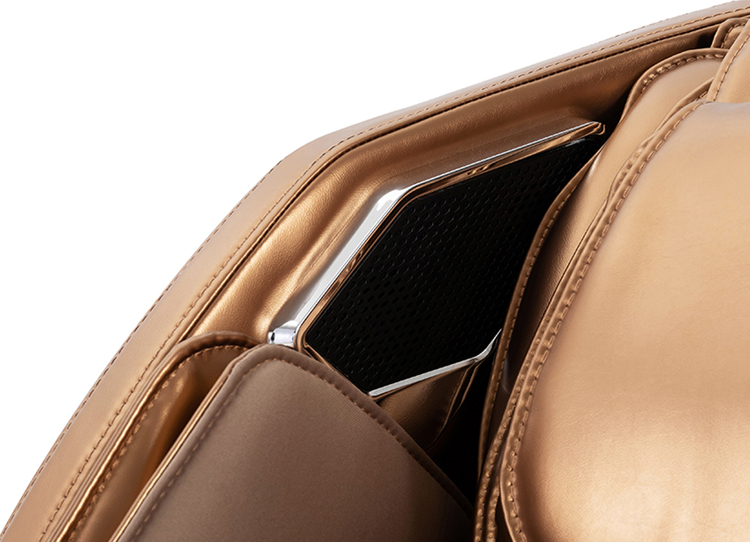 Music SpeakerBuilt-in Blue tooth speaker on both sides, just open your mobile phone Bluetooth and link the massage chair to play music.Adapt to any phone model.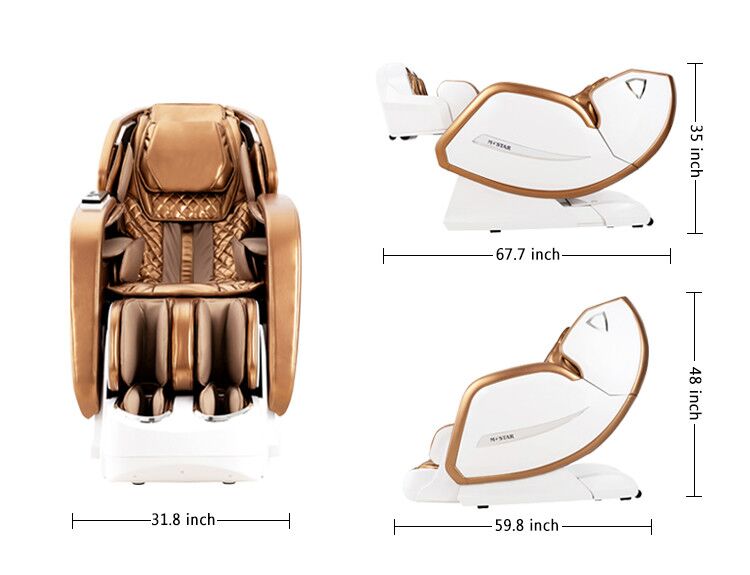 Product packaging
| | | |
| --- | --- | --- |
| Dimensions of packing box(CM) | G.W | N.W |
| 145*115*83.5 | 152KGS | 125KGS |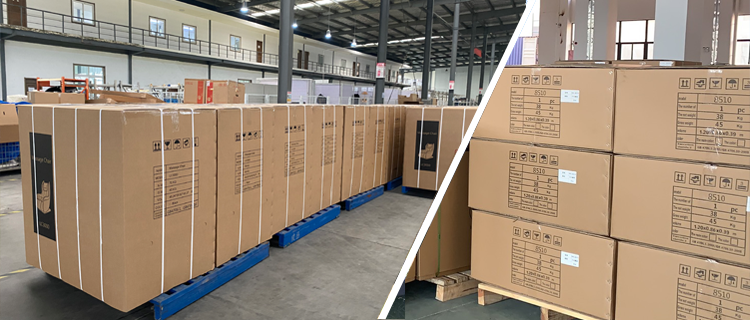 Company Profile



Testing



Feedback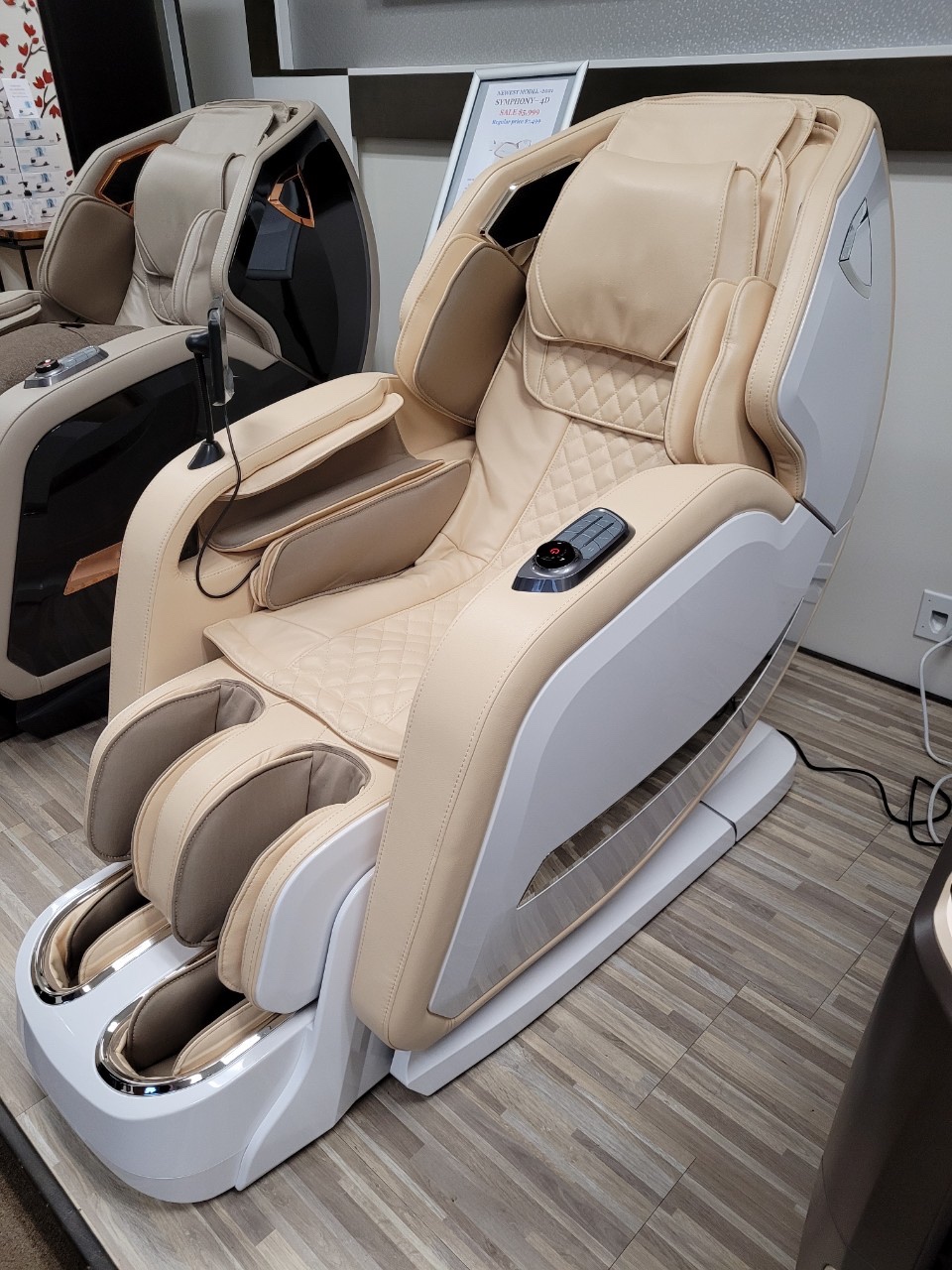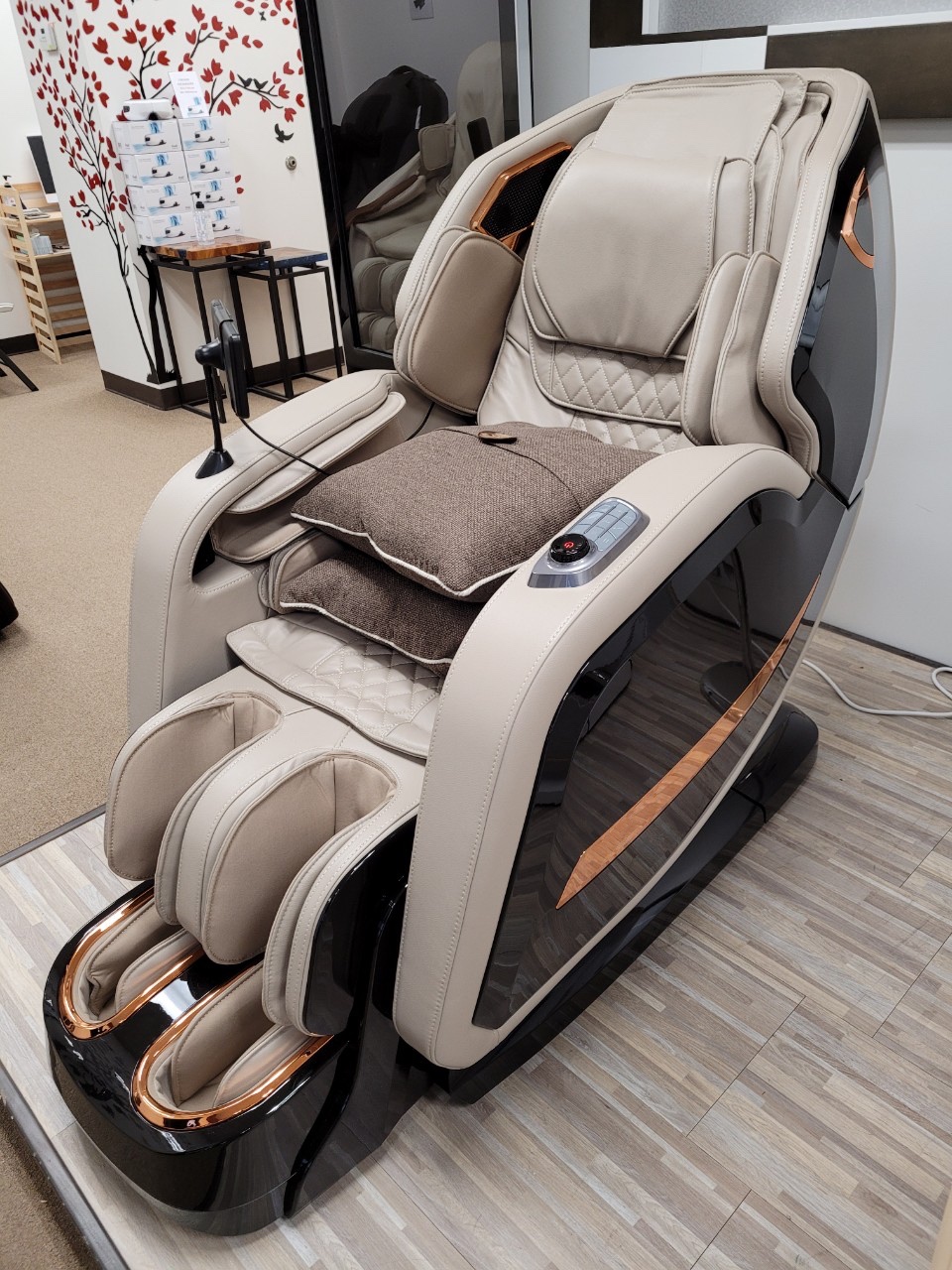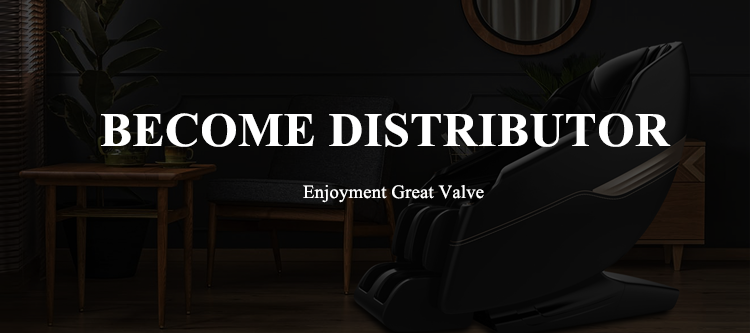 FAQ
1. How many boxes does it come in and is it easy to install?
Based on different size for our customers group, Morningstar comes in 1 or 3 boxs. And all you have to do is take it out of the box, install it based on our video, then trun on the remote and move it to where you want it placed. Finally lean the chair back and start using it. Then, it is ready to go.
2. Does the chair come with back rollers?
Yes, this chair has quad back rollers that perform deep tissue massages.
3. Does this chair have Zero gravity and Body stretch features?
Yes, all of our Home use Massage Chair are with Zero gravity and Body Stretch function.
You can enjoy those basic massage techniques as you want.
4. Do the chairs extend out for taller people?
Yes it does. It can adjust to any height that is under 7 feet tall.
5. What is the max capacity for this massage chair?
It can hold a max of 300 pounds, some of our other models can handle more.
6. I live in 2nd floor, is this chair easy to bring to the 2nd floor?
Yes sure. And it will be more easy if you use a dolly.
7. Are there rollers at the bottom of the feet?
Yes, it is with 3 rows roller for feet massage.
And this simple massage will keep us fit and healthy
8. Does this chair massage your hips?
Yes, there is two big airbags and vibration to massage your hips and waist.
9. Does the chair easy to be moved?
Yes, there are two wheels under the back of the chair.
So we just need to reline the chair with a slight force; then the chair can be moved to any place easily. Contact us if you need more details on Advance Massage Chair. We are ready to answer your questions on packaging, logistics, certification or any other aspects about Human Touch Massage Chair、Zero Gravity Massage Chair. If these products fail to match your need, please contact us and we would like to provide relevant information.
Product Categories : Massage Chairs > Massage Chairs